My wife, Carol, and I moved close to Pittsboro, NC, in 1983 and bought a charming but dilapidated old farm, at the end of a dirt road, that has served as our home and pottery ever since.  Over the last thirty eight years we've raised two lovely daughters, renovated the house and farm buildings (rebuilding when they received severe damage from hurricanes and tornados) and built a vibrant pottery business. As time passes, and the flower beds and gardens grow, this little corner of heaven grows evermore magical.
I continue to make fine pots, while Carol administers the business (for which I'm truly thankful!). We thoroughly enjoy being in North Carolina, love our hometown and all the relationships we've built, and value our deep connection to the pottery community and tradition here.
I refined local stoneware clays into an attractive, durable clay body. With the help of my apprentices, up until 2020, we made a full line of tableware for domestic use, and a range of planters for the garden. As an  outcome of the pandemic of 2020, I now work on my own, with occasional laboring support. I make all the  pots, occasionally with a part-time intern, and fire the massive kiln twice a year instead of three times. Along with tableware, vases, serving bowls, platters, and more, I specialize in making very large pots, planters, jars, vases and jugs.
In 2021 we built an online store, so you no longer to make the trek to Pittsboro, NC to enjoy my pots.
Please browse the rest of our website to learn more about the pottery, and come visit us at one of our Kiln Openings held twice times a year.
View information about identifying pots from W.M. Hewitt pottery.
North Carolina pottery, North Carolina potter, North Carolina potters
---
 The Old Kiln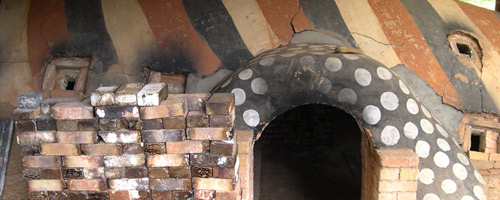 My 900 cu. ft. kiln is a modification of a 14th century kiln from Northern Thailand, and is similar in firing principle to the Southern groundhog kiln.
We fill and fired it three times a year, until 2020. Each firing holds about 2000 pots, big and small. The kiln takes five days to load, three and a half days to fire, and a week to cool. For the foreseeable future, I will now have only two firings and kiln opening sales a year.
Unloading is always a thrill!
---
The Second Kiln
In the summer of 2007, my former apprentice, Zac Spates, built a second big kiln here, helped by a team that included apprentices Aaron Weaver, Noah Reidel and Joseph Sand, as well as Clark and Caleb Cappola, and Johnno, C. W. Harris, Keith Bartholomew, John Belovics, Susan Cutter and friends, and Tim Taft and students from Guilford College. Thank you all for your hard work, particularly Zac!
It is a three-chambered climbing kiln, based on a Japanese design, and is a modified version of a kiln built by Kevin Crowe, whose kiln is near Charlottesville, VA. Please view some pictures of its construction.
We built the new kiln in order to separate the two Southern pottery traditions, the old one for salt glazes, and the new one for ash glazes. I have wanted to pursue each tradition distinctly ever since co-curating the exhibition, "The Potter's Eye: Art and Tradition in North Carolina," at the North Carolina Museum of Art, detailing the history and contemporary manifestations of the regional ceramic heritage. Previously I had been firing both styles of pottery in the old salt glaze kiln, which still produces wonderful pots, but now, with two kilns, I enjoy exploring a larger the palette of colors and decorative techniques.
Learn more about and see photos from the building of the kiln.
Stunning shot of the kiln shelves waiting to pack the kiln.
Or as their photographer, Lucas Wheeler called them – Stone Records.