Born in Stoke-on-Trent, England, Mark is the son and grandson of directors of Spode, the fine china manufacturers. As a student at Bristol University in the early 1970′s, Mark read Bernard Leach's "A Potter's Book," and decided to become a studio potter rather than an industrial manager. This decision led to a three-year apprenticeship with Michael Cardew, and later another with Todd Piker in Connecticut, where Mark met his wife, Carol.
In 1983 they moved to Pittsboro NC and set up their pottery. Mark built a very large wood kiln and began making the distinctive functional pots for which he is known, specializing in very large planters and jars, along with finely made smaller items. He uses local clays and blends the different North Carolinian folk traditions together into a contemporary style that has attracted a sizeable following.
Mark's work has been featured in numerous publications including the Smithsonian magazine, the cover of American Craft magazine, and he has written extensively in the ceramic press. Mark has exhibited in London, New York and Tokyo, as well as throughout the US. He is well-represented in museum and private collections.
Mark and Nancy Sweezy co-curated the highly-regarded exhibition, "The Potter's Eye: Art and Tradition in North Carolina Pottery," at the North Carolina Museum of Art, Raleigh, NC, October 30, 2005 – March 19, 2006. UNC Press published a superbly illustrated catalogue/book.
In 2017 he curated a show and edited the accompanying catalogue/book  at North Carolina Pottery Center entitled Great Pots from the Traditions of North and South.
Mark and his work were featured extensively in the nationwide PBS TV series, "Craft in America," and he recently had two major exhibitions of his big pots, the first, in 2010, at the Nasher Museum, at Duke University in Durham, NC, and the second, in 2011, at the Ogden Museum in New Orleans.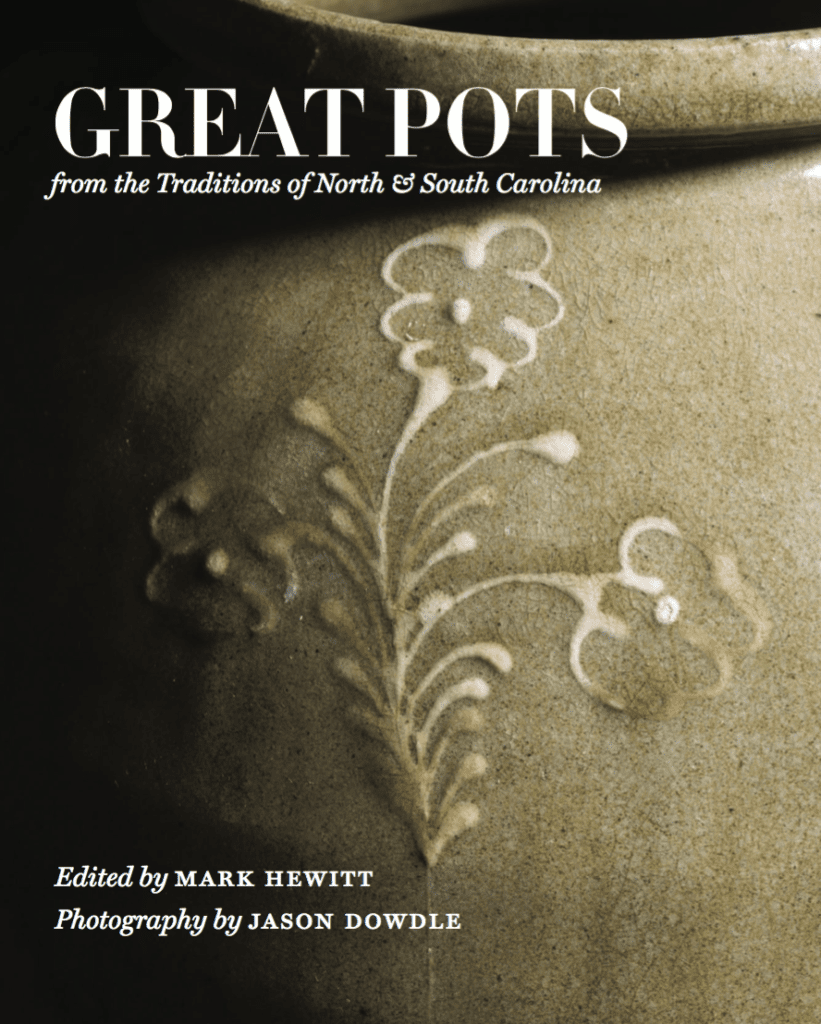 Mark has received numerous awards. In 2013 he received the Sam Ragan Award given by St. Andrew's University in Laurinburg, NC for contributions to the Fine Arts of North Carolina. He was awarded the 2014 Voulkos Fellowship by the Archie Bray Foundation in Helena, MT for outstanding contributions to the ceramic arts. Twice, in both 2013 and 2014, he won Best In Show at the North Carolina Botanical Garden 'Sculpture in the Garden' exhibition. Mark was one of five finalists for the 2015 American Craft Council's, "Balvenie Rare Craft Award," receiving both a cash award and a trip to NYC to luncheon with Anthony Bourdain.
Pucker Gallery on Newbury Street, Boston, MA, held major exhibitions of Mark's work. The first titled "At the Crossroads" occurred in early 2015, and the second was  in 2017, "500 Percent."  They continued to carry a selection of Mark's work for sale in their gallery until late 2020.
Mark is past President of the Board of Directors at the North Carolina Pottery Center in Seagrove, NC, and a member of the board from 2005 – 2018.
---
"We are fortunate that North Carolina continues to nurture pot makers and pot uses, and that the former have welcomed Mark Hewitt in their number. May the old jars continue to inspire him."
–Louise Allison Cort, Curator for Ceramics, Freer Gallery of Art and Arthur M. Sackler Gallery, Smithsonian Institution, from her essay, "Asian Ancestors," published in "Mark Hewitt: Potter," catalogue to his exhibition at North Carolina State University, Visual Arts Center, October-December 1997.
---
Resume
BACKGROUND
Born in Stoke-on-Trent, England; father and grandfather were Directors of Spode.
1976-1979; Apprenticed to Michael Cardew at Wenford Bridge Pottery, Bodmin, England.
1979-1983; Apprenticed to Todd Piker at Cornwall Bridge Pottery, Cornwall Bridge, CT, USA.
1978-79, 1982; Independent study of traditional potteries in West Africa, Taiwan, Korea and Japan.
EDUCATION
1976: B.Soc.Sci. in Geography, University of Bristol, England.
PERMANENT COLLECTIONS
Harvard Art Museum, Cambridge, MA
Renwick Gallery, Smithsonian Institution, Washington, DC
American Museum of Ceramic Art, Pomona, CA
High Museum, Atlanta, GA  see Exhibition Gallery
Philadelphia Museum of Art, Philadelphia, PA
Frederick R. Weisman Art Museum, Minneapolis, MN
Chrysler Museum, Norfolk, VA
National Arboretum, Washington, DC
Nasher Museum of Art, Duke University, Durham, NC
Spencer Museum, Kansas City, KS
Mint Museums, Charlotte, NC
Ackland Museum, University of North Carolina, Chapel Hill, NC
Cameron Art Museum, Wilmington, NC
Rocky Mount Arts center, Rocky Mount, NC
North Carolina Pottery Center, Seagrove, NC
Minneapolis Institute of Art, MN see Exhibition Gallery
Hickory Museum of Art, Hickory, NC
Gregg Museum, North Carolina State University, Raleigh, NC
Mt Holyoke College Art Museum, South Hadley, MA
Peabody Essex Museum, Salem, MA
Carolinas Medical Center – Mercy Art Collection
SOLO EXHIBITIONS
February/March 2017  Pucker Gallery, Boston, MA, "500 Percent"
February 2015   Pucker Gallery, Boston, MA,  "At the Crossroads"
June 2013   Blue Spiral Gallery, Asheville NC, "Potent Pots"                   
May 2013   Berkshire Botanical Gardens, Stockbridge, MA, "Rare Earth"
January 2011  Ogden Museum, New Orleans, LO, essays by Allan Gurganus and Christopher Benfey – view catalogue
February 2010  Nasher Museum, Duke University, Durham, NC, "Falling Into Place," essays by Tanya Harrod and Henry Glassie
Sept 2007    Signature Shop, Atlanta, GA
June 2004   Ferrin Gallery, Lenox, MA
October 2003    Signature Shop, Atlanta, GA
May 2002    Gallery Yufuku, Tokyo, Japan
April 2002    Cameron Art Museum, Wilmington, NC (inaugural show in the Sculpture Court) see Exhibition Gallery
June 2001    Gallery Dai Ichi Arts, 24 West 57th Street, New York, NY
August 2000    Harlequin Gallery, London, England
SELECTED GROUP SHOWS
2015  "Apprenticelines," curated by Mark Shapiro, NCECA Providence, RI
2014   Zanesville Prize for Contemporary Ceramics, Zanesville, OH
2009  "A Unique Likeness," Rocky Mount Arts Center, NC
2008  AKAR Gallery, Iowa City, Iowa
2007  Ferrin Gallery, NCECA, Louisville, KY
2006  Governor's Executive Mansion, NC Craft Exhibition, Raleigh, NC
2004  Ferrin Gallery, SOFA Chicago
2003  21st Century Ceramics in the US and Canada, Columbus, OH
EXHIBITIONS AS CURATOR
October 2005-March 2006 "The Potter's Eye: Art and Tradition in North Carolina Pottery," at the North Carolina Museum of Art, Raleigh, NC. Co-curator with Nancy Sweezy. Book accompanying the exhibition  written by Mark Hewitt and Nancy Sweezy, published by UNC Press.
SELECTED DEMONSTRATIONS & SPEAKING ENGAGEMENTS
March 2014  NCECA, Milwaukee, Panel Discussion, "Where are the Studio Potters?"
June 2013  La Meridiana International School of Ceramica, Tuscany, Italy, 2 week workshop
July 2011 International Ceramic Festival, Aberystwyth, Wales, UK
Feb 2007 Canadian Clay Symposium, Vancouver, BC, Canada
April 2005 Functional Ceramics Workshop, Wooster, OH
June 2004 Baltimore Clayworks, Baltimore, MD
April 2003 10th National Australian Ceramics Conference, Bendigo (also Keynote Speaker)
March 2000 NCECA, Columbus, OH, USA
PUBLICATIONS
September 2020, "What's Your Hurry," Mark's reflections on an early visit to the South, published in East Fork Pottery's eNewsletter, "Expectant Bellies, Fullness of the Moon."
October 2018, "Authoritative Vessels," by Rob Hunter, catalogue essay to an exhibition at the Pucker Gallery, Newbury Street, Boston, MA
October 2017, "500 Percent," by Mark Shapiro, catalogue essay to an exhibition at the Pucker Gallery, Newbury Street, Boston, MA
June 2017, "Marketing Wood-fired Pots," by Mark Hewitt at WOODFIRE NC, the International Wood Firing Conference held at Starworks, Star, NC
June 2017, "Pots, Purpose, and Place," by Mark Hewitt at WOODFIRE NC, the International Wood Firing Conference held at Starworks, Star, NC
June 2017, "Opening Address," by Mark Hewitt at WOODFIRE NC, the International Wood Firing Conference held at Starworks, Star, NC
Waubonsee Keynote for CM with edits March 2017
2017 North Carolina Pottery Center, Great Pots from the Traditions of North and South, edited by Mark Hewitt, Photography by Jason Dowdle
CarolinaFebruary/March 2017  Pucker Gallery, Boston, MA,  "500 Percent" Catalogue essay by Mark Shapiro
NCECA 2015 Where are the Studio Potters – FINAL- Dec 14 Notes from the Workshop
February 2015, Pucker Gallery, "At The Crossroads," Catalogue essay by Christopher Benfey
April 2014,  CFile, History File: "Mark Hewitt: Abuja 1978", by Mark Hewitt
April 2014, "Alexander Matisse's Soft Touch" by Mark Hewitt – introduction to Alex Matisse: New Ceramics, Memorial Art Gallery of the University of Rochester online catalog
March 2014, "Where are the Studio Potters?" – Notes by Mark Hewitt for the panel discussion at the National Council for Education in the Ceramic Arts (NCECA), Milwaukee, WI.
October 2012, "Sweetening the Pot: Reviewing a Resilient Tradition" – essay by Mark Hewitt for Traditional Pottery: Back to the Future, a Symposium, Mint Museum, Charlotte, NC
January/February 2012 Ceramic Review 253, Mark Hewitt, "A Colony of Dreamers: Mark Hewitt reflects on his journey from Stoke-on-Trent to North Carolina."
March 2011 "Potters in Print: History, Research, and Publication," an essay for a co-lecture with Mark Shapiro at the National Council for Education in the Ceramic Arts (NCECA), Tampa, FL
January 2011 The Ogden Museum catalogue with essays by Christopher Benfey, "Mark Hewitt at the Crossroads," and Mark Hewitt, "A Few of My Favorite Things About North Carolina Pottery."
Summer 2010 The Nasher Museum exhibition catalogue, with essays by Tanya Harrod, "The Artist as a Young Man," and Henry Glassie, "Mark in Place."
July 2009 Clay Times, "Conversations: Mark Hewitt," by Joe Campbell
May 2009 Ceramics Monthly, "Working Potter," by Mark Hewitt
Fall 2008 Ceramics: Art and Perception, Book Review of "Searching for Beauty," by Richard Jacobs
October 2007 "I Want to Lie Down and Sleep in Its Shadow," an essay by Mark in the exhibition catalogue to Svend's Bayer's show at Goldmark Gallery, Uppingham, UK
June 2007 Ceramics Monthly, "Functional Pride: Putting the Fun Back into Functional Pottery," by Mark Hewitt
October 2005 UNC Press, The Potter's Eye: Art and Tradition in North Carolina Pottery, Mark Hewitt and Nancy Sweezy
April 2005 The Rambler, "Moving the Earth a Little Closer to Heaven," by Dave Korzon
March 2005 NCECA, "Who'd Be a Potter?" Apprenticeship: An Educational Alternative
December 2004 Clay Times, cover article, "Mammoth Pots," by Wendy Summers
December 2004 American Craft, cover article, "Village Potter", by Ed Lebow
October 2004 "The Poetry in North Carolina Pottery," in "North Carolina Pottery: The Collection of the Mint Museums," UNC Press
December 2002 Studio Potter: "Mark Hewitt – Outside," by Henry Glassie
December 2002 Ceramics: Art and Perception #50, "Marking Time," by Robert Yellin
May 8, 2002 Japan Times, "Heart and Soul in Your Hands," Robert Yellin
April 2002 Ceramics Monthly, "The Iced Tea Ceremony," Mark Hewitt
July 3, 2001 Wall Street Journal: "The Magic of a Very Hot Fire," Jim Morrison
June 2001 Ceramics: Art and Perception #44, "Just Another Mug," Mark Hewitt
October 2000 Studio Potter, "Tradition is the Future," Mark Hewitt
October 1998 Smithsonian Magazine, "Fired with Finesse," Jim Morrison
September 1997 Ceramics: Art and Perception #29, "A Pot in the Hand," Mark Hewitt
May 1997 Ceramics: Art and Perception #28, "Jeff Shapiro's Gestures of Creativity," Mark Hewitt
January 1996 Studio Potter, "Conversations," with Janet Mansfield and Emily Galusha
September 1993 Ceramics: Art and Perception #12 "Carrying on a Tradition," Charles G. Zug III
April 1991 Ceramics Monthly, cover article, "The Making of a Potter," Mark Hewitt
TV
October 2009 PBS TV nationwide, "Craft in America," Origins episode
TEACHING
Spring 2009 Adjunct Professor, UNC Chapel Hill, with Prof. Townsend Ludington, "Reading American Culture through Pottery, Painting, and Prose"
BOARDS
2008 – 2018  Past President and Board Member, North Carolina Pottery Center, Seagrove, NC
North Carolina Potter, NC Potter, NC pottery, Southern folk pottery