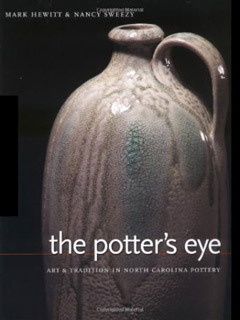 The Potter's Eye: Art and Tradition in North Carolina Pottery is a catalogue/book from the exhibition at the North Carolina Museum of Art, Raleigh, NC, October 30, 2005 – March 19, 2006.
Published by UNC Press and written by Mark Hewitt and Nancy Sweezy, with photography by Jason Dowdle. The book is available in hardcover with 235 color images throughout its 296 pages.
To order The Potter's Eye, please call us at 919.542.2731.
Read the review in Ceramics in America (2006)
---
Media

Articles
April 2014, "Alexander Matisse's Soft Touch" by Mark Hewitt – introduction to Alex Matisse: New Ceramics, Memorial Art Gallery of the University of Rochester online catalog
March 2014, "Where are the Studio Potters?" – Notes by Mark Hewitt for the panel discussion at the National Council for Education in the Ceramic Arts (NCECA), Milwaukee, WI.
October 2012, "Sweetening the Pot: Reviewing a Resilient Tradition" – essay by Mark Hewitt for Traditional Pottery: Back to the Future, a Symposium, Mint Museum, Charlotte, NC
January/February 2012 Ceramic Review 253, Mark Hewitt, "A Colony of Dreamers: Mark Hewitt reflects on his journey from Stoke-on-Trent to North Carolina."
Summer 2010, "Mark in Place" by Henry Glassie and  "Portrait of the Artist as a Young Man" by Tanya Harrod – essays for exhibition catalog for the "Mark Hewitt: Falling Into Place," at the Duke University's Nasher Museum of Art
Fall 2008, "Ceramics: Art and Perception", Book Review of Searching for Beauty by Richard Jacobs
June 2007, Ceramics Monthly, "Functional Pride: Putting the Fun Back into Functional Pottery"
March 16-19, 2005, "Apprenticeship: An Educational Alternative –Who'd be a Potter?", at the 39th Annual NCECA Conference (National Council for the Ceramics Arts), Baltimore, MD
March/April 2005,The Village Rambler cover article "Studio Potter Mark Hewitt" by Dave Korzon
December 2004, American Craft cover article,"Mark Hewitt: Village Potter" by Ed Lebow
October 2004. Essay in "The Poetry in North Carolina Pottery," in North Carolina Pottery: The Collection of the Mint Museums, UNC Press
December 2004 Clay Times cover article, "Making Mega Pots,"by Wendy Summers
December 2002 Studio Potter: "Mark Hewitt – Outside," by Henry Glassie
December 2002 Ceramics: Art and Perception #50: "Marking Time," by Robert Yellin
May 8, 2002 Japan Times: "Heart and Soul in Your Hands," Robert Yellin
April 2002 Ceramics Monthly: "The Iced Tea Ceremony"
July 3, 2001 Wall Street Journal: "The Magic of a Very Hot Fire," Jim Morrison
June 2001 Ceramics: Art and Perception #44, "Just Another Mug"
October 2000 Studio Potter: "Tradition is the Future"
1999 Aesthetics Panel, "Just Another Mug"
October 1998 Smithsonian Magazine, "Fired with Finesse" by Jim Morrison
May 1997 Ceramics: Art and Perception #28, "Jeff Shapiro's Gestures of Creativity" Mark Hewitt
September 1997 Ceramics: Art and Perception #29, "A Pot in the Hand," Mark Hewitt
December 1995 Studio Potter, "Conversations," with Janet Mansfield and Emily Galusha
March 1995 Ceramics Monthly, "Svend Bayer"
January 1995 Ceramic Review, "Stuck in the Mud"
September 1993 Ceramics: Art and Perception #12, "Carrying on a Tradition" by Charles G. Zug III
July 1993 Ceramic Review, "Stuck in the Mud"
April 1991 Ceramics Monthly, cover article, "The Making of a Potter"
---
 Exhibition Catalogs
"Mark Hewitt – Big-Hearted Pots" – solo exhibition at the Ogden Museum of Southern Art, University of New Orleans, New Orleans, LO, January 2011
"Mark Hewitt: Falling into Place" – solo exhibition at the Nasher Museum of Art at Duke University, Durham, NC, Summer 2010
"Mark Hewitt: Potter" – solo exhibition at the Visual Arts Gallery, North Carolina State University, Raleigh, NC, October 2002
"Mark Hewitt: Outside" (excerpt by Henry Glassie) solo exhibition at the Cameron Art Museum, Wilmington, NC, April 2002
"Mark Hewitt: Stuck in the Mud" September – October 1992 Belk Gallery, Western Carolina University, Cullowhee, NC