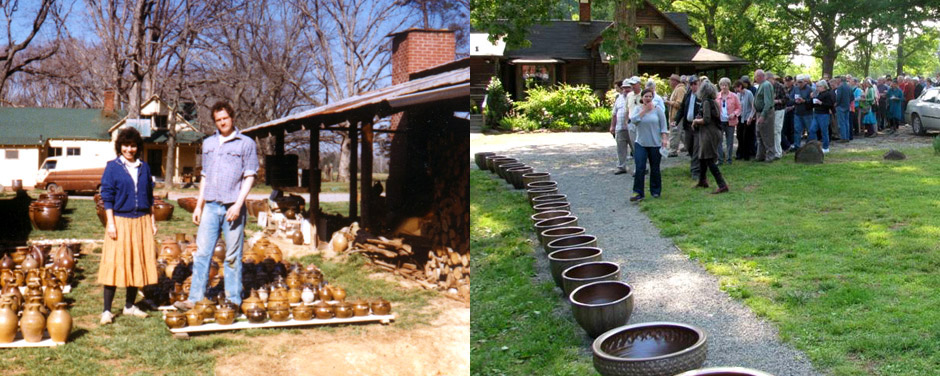 Carol & Mark in 1984 with pots from the 2nd firing!                          Walking down to the barn on Saturday at 9am.
Three Kiln Openings a year
We currently hold three Kiln Opening Sales each year, one in the Spring, another in late Summer, and the third the first two weekends in December. We send postcards and emails to everyone on our Mailing List a few weeks before each Sale. So please join the mailing list to receive all Kiln Opening updates and occasional other news. The Kiln Openings are open to the public, so feel free to bring your friends!
The sales are fun, lively events, with plenty of pots for everyone. There are 1500 – 2000 pots for sale at each Kiln Opening, and light refreshments are provided.
Previews
We hold a Preview on the first Saturday morning, from 8:00 to 8:50am, immediately before each Sale. This is designed to give everyone an opportunity to admire the work before the actual sale begins. No sales are made, and no reservations are taken during that time.
At 8:50am we guide everyone back down the walk, to get back in line in the order that they arrived, and we re-open to start selling pots at 9:00 am.
The sale continues until 5pm, then Sunday from noon – 5pm, as well as the following weekend. Pots are restocked for Sunday, and also for the second weekend. You can also check the Events page closer to the date for more details.
We send out an email a few days before the Kiln Opening with photos of a selection of the new pots, so make sure we have your email address by signing up here.
Kiln Openings are fun!
Kiln Openings are festive occasions, with light refreshments, lots of good chat, and a chance to talk with Mark and the apprentices about the pots and the pottery. You can tour the pottery workshop, wander inside the kilns, and enjoy the lovely country setting, surrounded by rolling hillsides and pond.
Children are most welcome – in fact we have a swing set and tree swing just to make their visit more enjoyable!
Other opportunities for purchasing pots?
If you can't get here for a Kiln Opening, you are always welcome to call us for an appointment and come at a more convenient time (919) 542-2371. We also ship pots all around the world. Just give a call or email and we will work something out.
The email address is his Mark's first name @hewitt pottery dot com.
Who made what?
For help identifying which potter – Mark or his apprentices  – made the various pots on sale here you can view information about the stamps they each put on the bottom of their pots here.