Using the new materials that Mark has been sourcing from various sites in the Piedmont, Mark and his apprentices did elaborate glaze tests in the Spring 2016 firing, and the results were stunning. Shiny Celadons, Temakos, more…
Preview gallery from the Spring 2016 Kiln Opening
They used these new glazes, as well as their traditional salt and ash glazes for Firing 95 and Firing 96 of the 'old' salt kiln.
Preview gallery for December 2016 Kiln Opening
More experimenting, and building on what they have learned, will drive the aesthetic of the pots in the upcoming 'elle' firing in April of 2017.  The Preview Gallery for the Spring Kiln Opening should be up by April 20th. To get an email notice about that click here.
---
Spring Kiln Opening 2017
April 22 & 23 and April 29 & 30
Preview:   April 22, 8 – 8:50am
Sale:    Saturdays 9am – 5pm & Sundays noon – 5pm
This will be Firing 'elle' of the alkaline kiln.
why?
The first Kiln Mark built uses numbers. We just had Firing 98.
The second kiln uses letters, but they get confusing with all the maker stamps.
So this is firing L, affectionately stamped  'elle'.
Come on out to the Spring Kiln Opening and see the new glazes, enjoy the refreshments, swing on the tree swing, and spend the day in the country!
~   ~    ~    ~    ~
Great Pots is a stunning exhibition of 150 pots from five branches of the regional tradition – Moravian and St. Asaph's Earthenware; South Carolina stoneware (Edgefield, Columbia, and Upstate); Lincoln & Catawba County alkaline glaze; Moore & Randolph County salt glaze: and Alamance County salt glaze.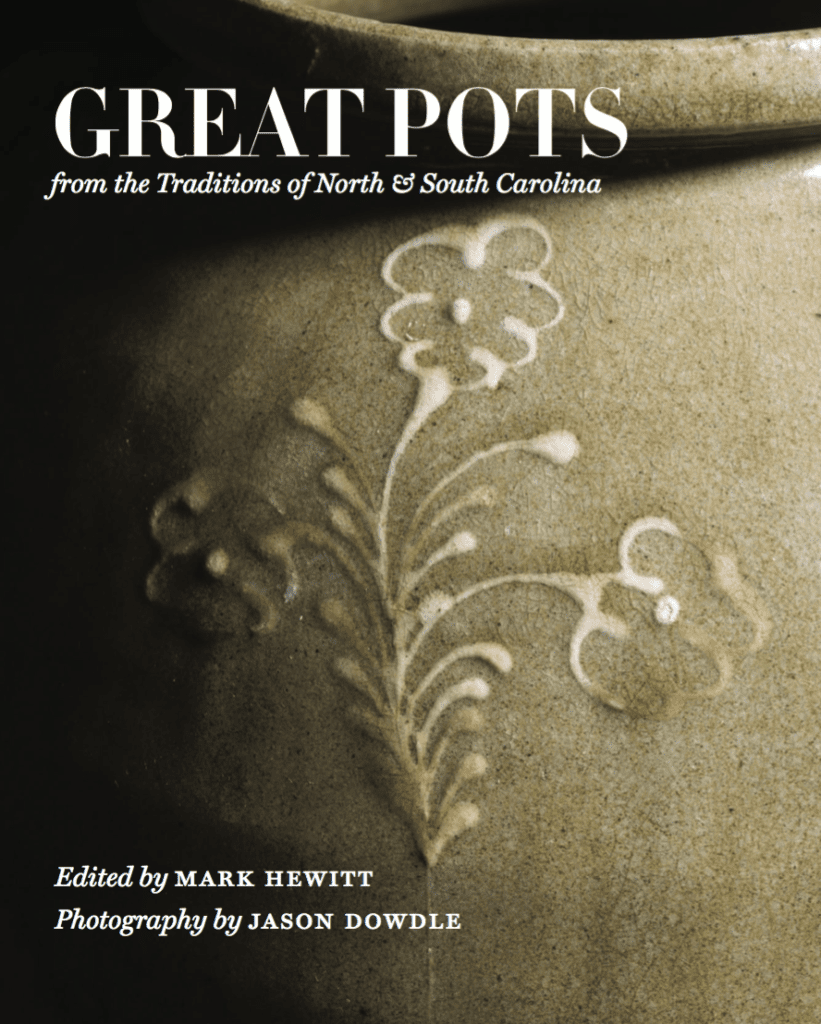 While the North Carolina and South Carolina traditions are linked by history, culture, and material, significant stylistic differences exist between the two, as individual potters used their consummate skills to give singular voice to their time and place.
The last thirty years has seen extraordinary levels of interest in this regional ceramic heritage, and the Great Pots exhibition with an accompanying catalogue bring together several voices to examine the aesthetics, folklore, archaeology, and collection of this mighty, shared tradition.
~  ~  ~  ~  ~  ~
To get a postcard and/or email about our kiln openings, please click  here.
You are also welcome to make an appointment to come out some other time, but by calling (nine one nine) 542-2371 or emailing hewits@hewittpottery.com.
~  ~  ~  ~  ~  ~
Upcoming 2017 Kiln Openings:
Summer Kiln Opening  –  August 26 & 27 and September 2 & 3
Holiday Kiln Opening  –  December 2&3  and December 9 & 10

---
"At his kiln opening in April 1997 the largest members of the new family (of pots) were testaments to Mark's technical virtuosity combined with a superb artistry that has allowed him to reach new heights, an ascent that we all expect will continue."
– Sherman Lee was Director of the Cleveland Museum of Art from 1958 to 1983, and was an expert on Asian art. Excepted from the preface to "Mark Hewitt: Potter," the catalogue to his exhibition at North Carolina State University, Visual Arts Center, October-December 1997."